Nona Cardigan Abaya
Sale price

RM 350.00

Regular price

RM 0.00
Share
The Kalima Nona Exclusive Abaya is a truly luxurious and elegant garment designed to make every occasion special. It is thoughtfully crafted with meticulous attention to detail and comes with a matching sheer shawl and a faux diamond brooch, further enhancing its beauty and charm.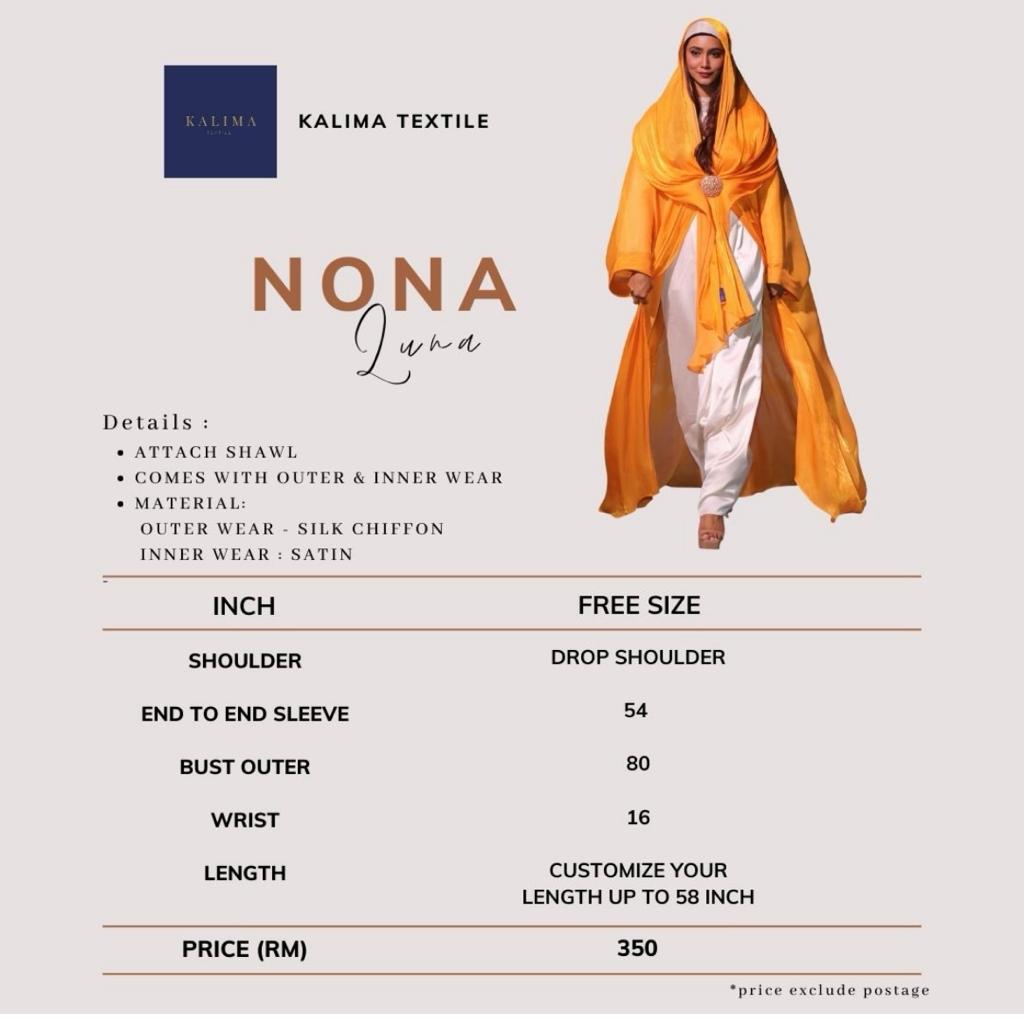 Here are the key details and features:
Round Collar: The abaya boasts a classic round collar, adding an element of timeless sophistication to the design. This collar style complements the overall modest and graceful look.
One Button Closure: At the back of the abaya, you will find a single button closure. This not only serves a practical purpose for wearing the garment but also contributes to its overall stylish appearance.
Material: The abaya is constructed from high-quality Silk Chiffon, a material known for its delicate and airy texture. This fabric drapes gracefully and gives the abaya an ethereal quality. It's worth noting that the abaya does not include lining, emphasizing its sheer and lightweight nature.
Attached Matching Sheer Shawl: Included with the abaya is a matching sheer shawl, attached together to complement the abaya perfectly. This shawl can be draped elegantly to complete the ensemble, creating a coordinated and sophisticated look.
Faux Diamond Brooch: As an exquisite addition, the Kalima Nona Exclusive Abaya also includes a faux diamond brooch. This brooch can be used to accentuate the abaya, adding a touch of glamour and sparkle to your outfit. It's a symbol of luxury and elegance.
Elegance and Royalty: Much like its counterpart, the Kalima Maya Exclusive Abaya, the Nona Exclusive Abaya is cherished by royalty and celebrities. Its association with these elite figures reflects its exceptional design and quality. When you wear this abaya, you will undoubtedly feel a sense of regal elegance, making it suitable for any special occasion or event.
In summary, the Kalima Nona Exclusive Abaya is the epitome of refinement and grace. Its Silk Chiffon material, classic round collar, one-button closure, and the addition of a matching sheer shawl and faux diamond brooch make it a captivating choice for those who wish to exude elegance and sophistication. Whether you are attending a formal event, a celebration, or any special gathering, this abaya will make you feel like royalty and ensure you stand out with a touch of sparkle and grace.